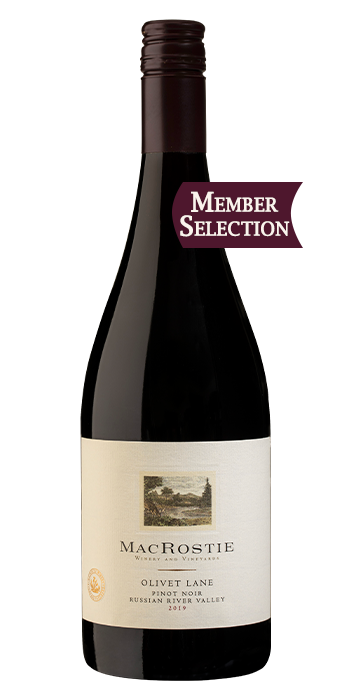 Olivet Lane
Appellation

Russian River Valley
Tasting Notes

Once again, Olivet Lane has produced a bright and vivacious Pinot Noir with lovely aromas of ripe blackberry and dried flowers, as well as subtle hints of toasty oak from barrel aging. The dark berry and floral layers are echoed on the energetic palate, where the flavors glide to a long, creamy finish.

Wine Origin

2019 was a nearly ideal winegrowing season. There was just the right amount of heat early in the growing season to acclimate the grapes, and mild temperatures continued throughout the season ensuring superior flavor development. We hand-harvested the grapes exactly when we wanted to in the cool evening hours of September 9th, 2019.

Production Notes

The fruit was gently destemmed into small open-top fermenters, using state-of-the-art equipment and procedures to avoid any pumping of the must. Inoculation with select yeast strains followed a three-day cold soak, and the caps were managed with a combination of pump-overs and punch-downs. After 10 months of ageing in exclusively French oak barrels, of which 75% were once used (with no new oak overall), we bottled on September 10th, 2020.

Winemaker Notes

Planted by the Pellegrini family in 1975, today, Olivet Lane is managed by the fourth generation of the family to be involved in winegrowing. The vineyard, which is named for the mature olive trees at the property entrance, is located in the Santa Rosa Plain neighborhood of the Russian River Valley, on an undulating benchland of well-drained, gravelly, clay loam soil. The foundation of this wine is the coveted Martini selection, a heritage clone that has played a key role in some of California's greatest Pinot Noirs.