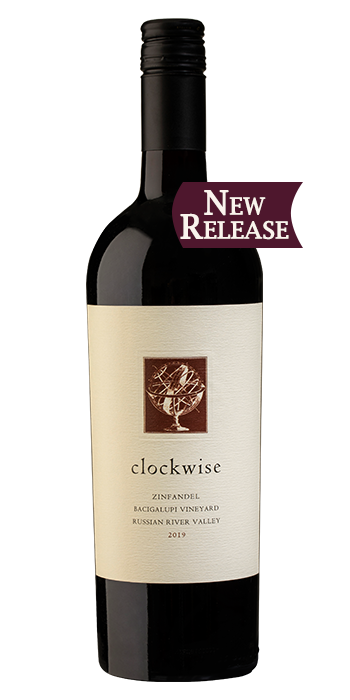 Bacigalupi Vineyard
Appellation

Russian River Valley
Tasting Notes

Dense, medium-dark purple in the glass, the nose of this alluring Zinfandel offers an array of fruit and earth notes, with aromas of boysenberry, black raspberry, cassis, pomegranate, fresh tobacco, coffee and cocoa nibs. On the palate, it greets you with a full and fruity entry, with flavors of raspberry, blackberry and bramble. Beneath its lush fruit and velvety texture, harmonious layers of earth, spice, white pepper and cedar add nuance and complexity while carrying the wine to a long, robust finish.

Wine Origin

2019 was a remarkable growing season for most of Sonoma County, with ample winter rainfall creating wet soils and cool temperatures that delayed budbreak in some areas. Spring and summer brought moderate to slightly above average temperatures, while late May rains delayed flowering slightly and created uniform cluster size. Zinfandel can be a notoriously uneven ripening grape, which made our partnership with the Bacigalupi Family invaluable in terms of being able to thin clusters and ensure an even and enviable crop. Grapes for the 2019 Clockwise Zinfandel were harvested on October 4th, 2019 from Bacigalupi's Frost Ranch Vineyard, planted to Clone 14.

Production Notes

The fruit from the vineyard was picked by hand as whole clusters and hand sorted at the winery into 1-ton fermentation bins. Hand sorting gave us another check point to be able to remove any green berries and clusters. Following this, a 5-day cold soak fermentation was kicked off using yeast to enhance aromatics and produce a healthy fermentation. Punch-downs occurred twice a day to give the cap oxygen and encourage color extraction. The wine was aged for 10 months in almost exclusively one-year-old French oak barrels. Using only once-filled oak played down the toast and allowed the acid and fruit to shine through. The bottling occurred on August 20th, 2020.

Winemaker Notes

For more than 30 years, MacRostie has focused on making benchmark Sonoma County Chardonnays and Pinot Noirs. While this focus has allowed us to cultivate a remarkable level of experience, we are wine lovers who also find joy in exploring and discovering new regions and new wines. As a result, several years back, we established a winery within our winery here at MacRostie. We called it Clockwise—a name that captures many of the elements that are important to us from a winemaking perspective, including timing, wisdom and knowledge. Just like at MacRostie, the winemaking for Clockwise is guided by Winemaker Heidi Bridenhagen and winemaking icon Steve MacRostie. In 2019, the opportunity to work with the renowned Bacigalupi Family and produce a Zinfandel from their acclaimed grapes became a reality and the first Zinfandel produced by Clockwise was born.