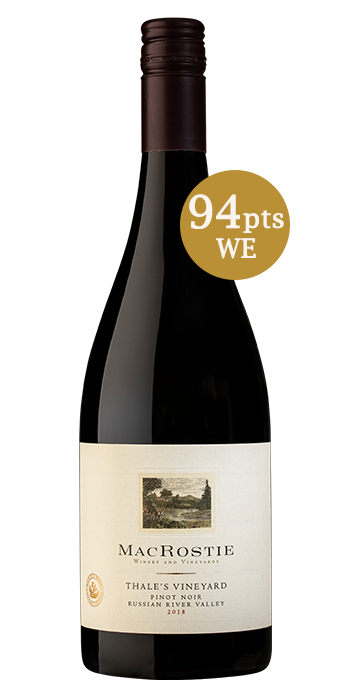 Thale's Vineyard
Appellation

Russian River Valley
Tasting Notes

The 2018 Thale's Vineyard Pinot Noir displays a pristine medium-ruby color, with alluring aromas of black plum, cranberry, bramble, black tea, and cocoa powder. The dark fruit elements are echoed on the rich, round palate, where flavors of cassis, blackberry, and shitakes are supported by sophisticated nuances from aging in French oak barrels. The finish is long, creamy, and lush, with supple, seamlessly integrated tannins.

Wine Origin

Because the 2018 growing season was one of the naturally high yields, we worked meticulously to thin the fruit and to bring each vine into ideal balance. The clusters ripened slowly, and in general, 2018 was a late harvest. The grapes from Thale's Vineyard were harvested on five different days between September 7th and September 26thof 2018. A small amount from almost every block was used to create this complex and delicious blend.

Production Notes

The fruit was gently destemmed into small open-top fermenters, using state-of-the-art equipment and procedures to avoid any pumping of the must. Inoculation with a select yeast strain was followed by a three-day cold soak, and the caps were managed with a combination of pump-overs and punch-downs. This wine was aged for 10 months in 32% new French oak, and 30% one-year-old French oak barrels. Bottling took place on August 8th, 2019.

Winemaker Notes

Our Thale's Vineyard is located in the northernmost part of the Russian River Valley in an area known as the Middle Reach. Named after Steve MacRostie's wife, Thale(pronounced Thay-lee), this has been MacRostie's estate vineyard since 2013. The roughly 14-acre property is partitioned and planted as eleven different blocks. Each block varies in clone, aspect, soil type, and year planted, offering great complexity and blending opportunities from the site.