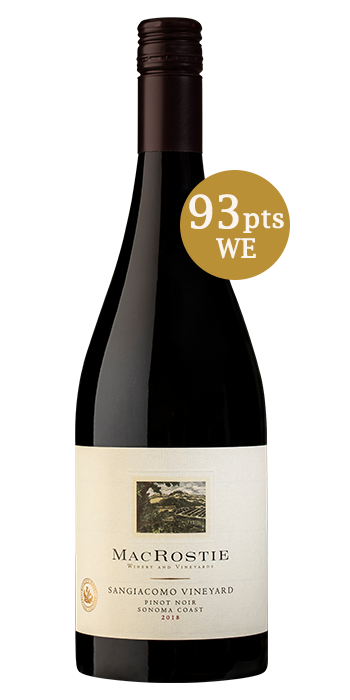 Sangiacomo Vineyard
Tasting Notes

This wine begins with a fascinating nose of mushrooms, moist earth, black cherry, and sarsaparilla (everything a pinot should be!), along with hints of cocoa powder and peppercorn. The earthy notes continue on the palate, where they add depth and gravitas to flavors of tart cherry, raspberry, and blackberry, with hints of cinnamon and spice rounding out the finish.

Wine Origin

The 2018 vintage had naturally large yields so we worked closely with the growers throughout the growing season to maintain balance and optimize flavors and quality. The three vineyards are planted to two different clones; 115 and Pommard. The fruit was picked on separate days for each of the vineyards: September 13that Lakeville, September 26that Fedrick Vineyard, and September 27that South Sonoma.

Winemaker Notes

The grapes for this Pinot Noir were grown on three different Sangiacomo properties. Two of the vineyards are located off of Lakeville Highway in the Petaluma Gap sub-AVA, where they benefit from consistent winds every afternoon. The third property is located closer to the Sangiacomo Home Ranch in Carneros. For three generations, the Sangiacomo family has been growing grapes in Sonoma County. Recognized as master winegrowers, their fruit is highly prized for its consistent quality and delicious flavor profiles.