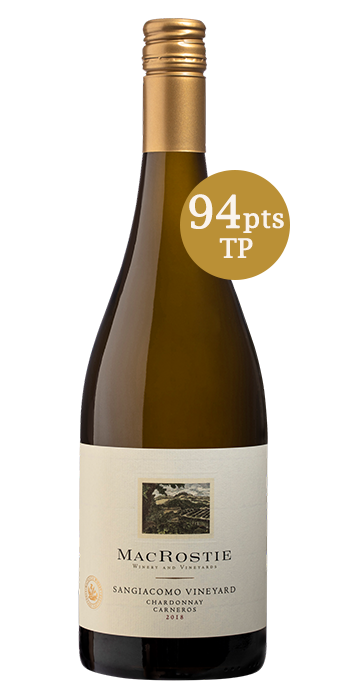 Sangiacomo Vineyard
Tasting Notes

Capturing the richness and beauty that have made the Sangiacomo Vineyard famous, this wine begins with opulent aromas of apricot and honeysuckle that leap from the glass. On the palate, bright acidity adds balance and nuance to the rich mouthfeel, framing the vibrant stone fruit and citrus flavors, and carrying the wine to a long key lime pie and white pepper finish.

Wine Origin

The grapes for this Chardonnay came from two different blocks of the famed Sangiacomo Vineyard, with the majority of the fruit coming from the acclaimed Home Ranch and the remaining from the Sangiacomo's equally renowned Catarina Block. For three generations, the Sangiacomo family has been growing grapes in and around the town of Sonoma. Recognized as master winegrowers, their fruit is highly prized for its consistent quality and delicious flavor profiles. We have been proud to work with the Sangiacomo Vineyard since our debut 1987 vintage.

Production Notes

Because the 2018 growing season was one of naturally high yields, we worked closely with our grower partners to thin the fruit in order to bring each vineyard into ideal balance. In general, 2018 was a late harvest, and the clusters ripened slowly. Fruit was harvested on two separate days, September 20th for Home Ranch and October 4th, 2018 for Catarina.

Winemaker Notes

In order to maximize quality, the harvested grapes went directly to press as whole clusters and were gently pressed. This provides a distinct mouthfeel texture. After settling, the juice was racked to French oak barrels for fermentation and aging, with a modest 16% new French oak, and 28% one-year-old barrels. The wine was aged for ten months before being bottled on August 5th, 2019.