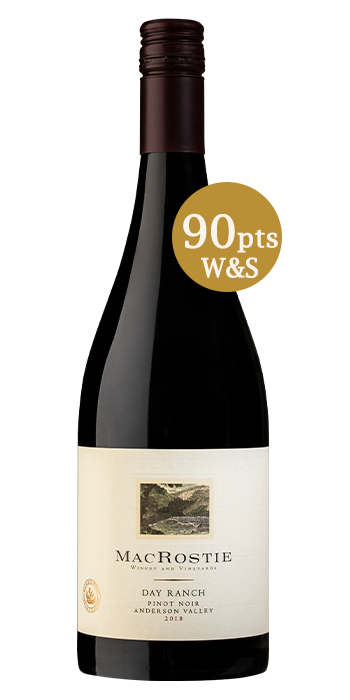 Day Ranch
Appellation

Anderson Valley
Tasting Notes

This Pinot Noir has an attractive deep fuchsia color, with enticing aromas of plum and exotic orange blossom. On the palate, a plush, supple entry evolves into a full, rich mid-palate, with firm tannins and a long, refreshing finish.

Wine Origin

The 2018 growing season began with warm winter weather before things turned cool and rainy in February, which prevented an early bud break. While the rains continued, things warmed up again in March, providing ideal nutrients and growing conditions for the vines. From June onwards the weather was lovely and temperate, with sunny days and cool nights ensuring excellent flavor development and acid retention in the grapes. As harvest drew near, the weather turned warm providing a final push to ripeness. Day Ranch Vineyard is planted to Clone 667, and we harvested our fruit on September 24th, 2018.

Production Notes

The fruit was gently destemmed into small open-top fermenters, using state-of-the-art equipment and procedures to avoid any pumping of the must. Inoculation with select yeast strains followed a three-day cold soak, and the caps were managed with a combination of pump-overs and punch-downs. This wine was aged for 10 months in French oak barrels—22% new and 22% one-year-old—which enhanced the deep color and broadened the palate of this lovely wine. It was bottled on July 26th, 2019.

Winemaker Notes

To make this wine, our love of exploration took us to another acclaimed coastal Northern California wine region, Mendocino County's renowned Anderson Valley. Located just 15 miles from the Pacific Ocean, in the cool "Deep End" of the Anderson Valley, Day Ranch is planted on an alluvial terrace that abuts a mountainside. This wild, rustic terroir yields a complex and distinctive expression of Pinot Noir.