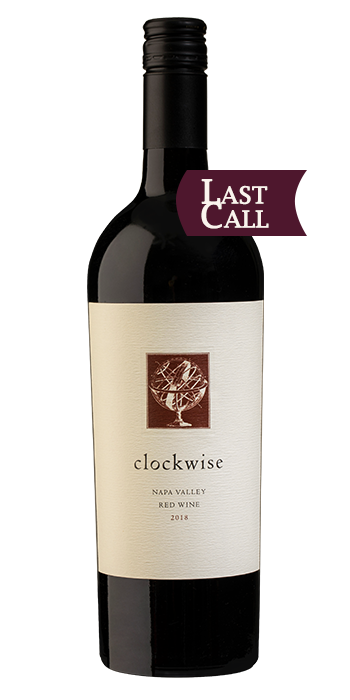 Clockwise Red Blend
Tasting Notes

This elegant and sophisticated Bordeaux blend reveals a lovely nose of blackberry and cassis. Black tea and earthy spice notes complement the bold tannins and intense palate length, while the thoughtful use of French oak brings together the playful fruit aromatics with the striking tannins. While it has the structure to reward extended cellaring, this captivating wine may also be enjoyed now.

Production Notes

The grapes were harvested in late October of 2018 and destemmed and crushed into open-top fermenters. Daily pump-overs were performed for five days to release color and tannin. When optimum levels were achieved, the fermentation was kicked off using yeast to enhance dark fruit aromatics. During fermentation, the grapes were punched down two times a day to manage temperature and continue to release color and flavors. The wine was then pressed off of the skins and aged for almost 24 months in 40% new French oak barrels and 40% once-filled barrels. Bottling occurred on August 18th, 2020.

Winemaker Notes

For more than 30 years, MacRostie has focused on making benchmark Sonoma County Chardonnays and Pinot Noirs. While this focus has allowed us to cultivate a remarkable level of experience, we are wine lovers who also find joy in exploring and discovering new regions and new wines. As a result, several years back, we began incubating a new winery here at MacRostie. We called it Clockwise—a name that captures many of the elements that are important to us from a winemaking perspective, including timing, wisdom, and knowledge. Just like at MacRostie, the winemaking for Clockwise is guided by gifted Winemaker Heidi Bridenhagen and winemaking icon Steve MacRostie. Our Clockwise Napa Valley Red Wine was crafted using the five traditional Bordeaux varietals and is composed of 44% Cabernet Sauvignon, 16% Merlot, 16% Malbec, 16% Cabernet Franc, and 8% Petit Verdot, yielding a layered and complex Cabernet-based red blend in a more classically Old World style.