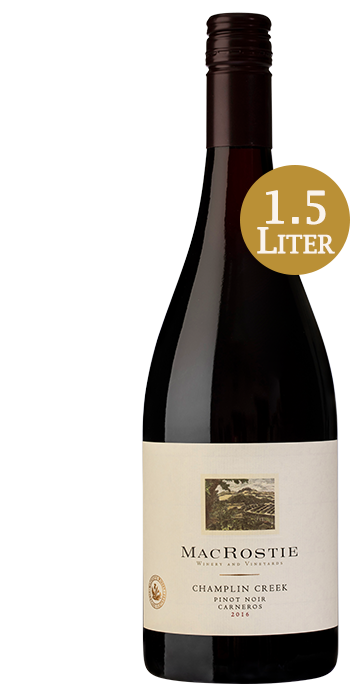 Champlin Creek 1.5 Liter
Tasting Notes

This is a visually gorgeous wine with a dark plum color that appears both bright red and deep purple at the same time. Aromas of black cherry and brown sugar make for an inviting wine. After taking a sip, the flavors reveal layers of blueberry and raspberry underscored by rich and luxurious tannins.

Wine Origin

A bit warmer than average, the 2016 growing season proved to be a very good one, with near-perfect conditions for growing Pinot Noir. A well-timed cool spell in August slowed ripening down, enabling the fruit to develop evenly to full maturity without sugars being too high. The vines at Champlin Creek are planted on a hillside to Clone 667. The clusters are loose and the berries are very small, which results in a low juice-to-skin ratio. The grapes were picked on September 19th, 2016.

Production Notes

The fruit was gently destemmed into small open-top fermenters, using state-of-the-art equipment and procedures to avoid any pumping of the must. Inoculation with select yeast strains followed a three-day cold soak, and the caps were managed with a combination of pump-overs and punch-downs. The wine was aged in French oak barrels, 17% new and 48% one-year-old, and aged for 12 months before being bottled on October 31st, 2017.

Winemaker Notes

The grapes for this Pinot Noir came exclusively from Champlin Creek, an exceptional vineyard located on a windswept hillside in western Carneros near Sonoma Town. Champlin Creek features volcanic soils, which means it is rocky and well-drained. The site's challenging combination of wind and rocky soils results in a wine with deep color and excellent tannins.